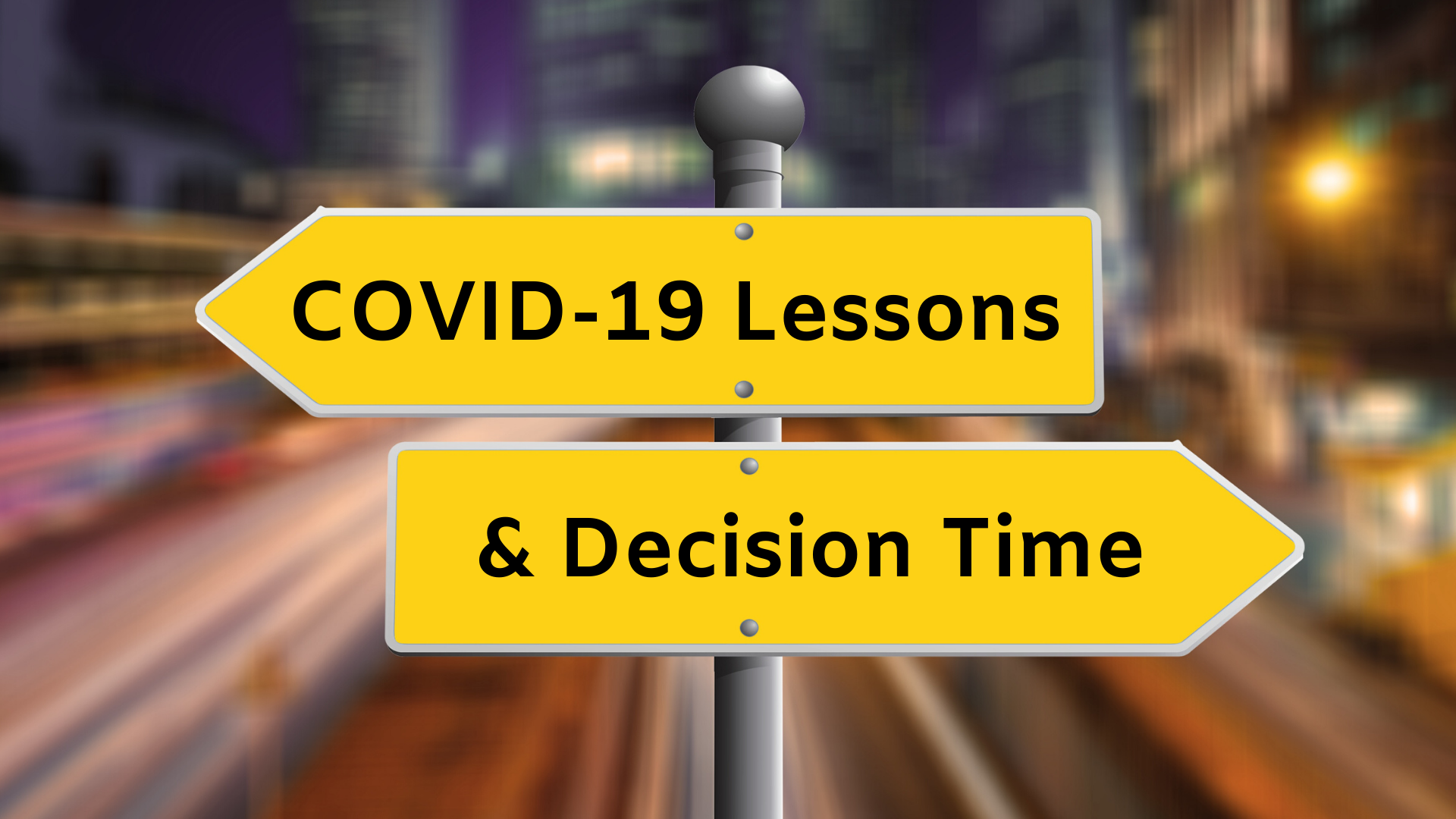 COVID19 Lessons and Decision Time
Writing for the Wall Street Journal (May 6, 2020), C. Kavin Rowe (professor at the Duke Divinity School) courageously shares that his wife is dying in hospice. His piece—"Dying Gives Us a Chance to Confront Truth"—reveals how facing the ending of our life brings a fresh clarity about what is important, along with a new appreciation for what God has said to us.
"The demand to face death created a new chance to grow closer together and deeper in our faith. We don't have time to argue about what a 'messy kitchen' means when we're focused on sharing truths we need to hear: I love you. I wish we could grow old together. I wanted to know our son's wife and our grandchildren. I will be with you to the end."
He continues. "We have long read the Bible. But facing death has brought it near, and its words now speak directly to us. We find comfort in the Psalms: He lifted me out of the desolate pit, out of the mire and clay; Taste and see that the Lord is good. And in the words of Jesus, Let not your heart be troubled; and do not be afraid; I am the resurrection and the life. And when my wife has breath enough, we also sing the Kyrie eleison, Lord, have mercy.
Christians for centuries have known this reality. Facing the prospect of dying brings the opportunity to grow closer together, deeper in our faith, and a sharing of life's most important truths.
The article finishes profoundly. "No sane person would ever give thanks for a pandemic. But if we take the chance to become truth-tellers, lovers, and reconcilers, we may well wind up giving thanks for what we have become."
Thank you, Dr. Rowe. May God's grace be your and your precious wife's sustaining strength.
My view? We should always read Scripture as if this day were our last…at least here!
DECISION TIME FOR THE CCC BODY OF CHRIST
If you are a member at Christ Community Church, you'll soon be receiving information for our Sunday, May 31 CCC Membership meeting. Most members will receive it electronically, and indeed our Spring Membership meeting at 4:30 that afternoon will be conducted "virtually," or online using ZOOM. A first for our church, and a fun way for us to take a step together as a united body in considering important matters.
We will need our members' decision on a number key matters, including the voting in of new members, understanding and voting on our 2020–21 budget (which begins June 1), and voting on matters related to a Lead Pastor transition process. As I've been urging for a good number of months, "BECOME A MEMBER!" We need our members' prayers, input, and decisions on keeping Christ Community Church a thriving, fruitful ministry.
We need our members' prayers, input, and decisions to keep this wonderful church healthy.
—Pastor David
BIBLICAL LIFE COACHING AHEAD…
Beginning Sunday June 7th, a new summer Gather Teaching series commences—Letters: Life Coaching from Paul the Apostle. Each week, a different letter (i.e., New Testament book) of all those written to the churches of the 1st century will be taught. Throughout the summer, this series will give a helpful orientation to reading and understanding the coaching offered by Paul to 1st century Christians (and us) about walking with the Lord Jesus. Pastors David, Kyle, Mark, and Kip will share in teaching this summer.
Thanks to all in this great Christ Community Church team. You're the best!