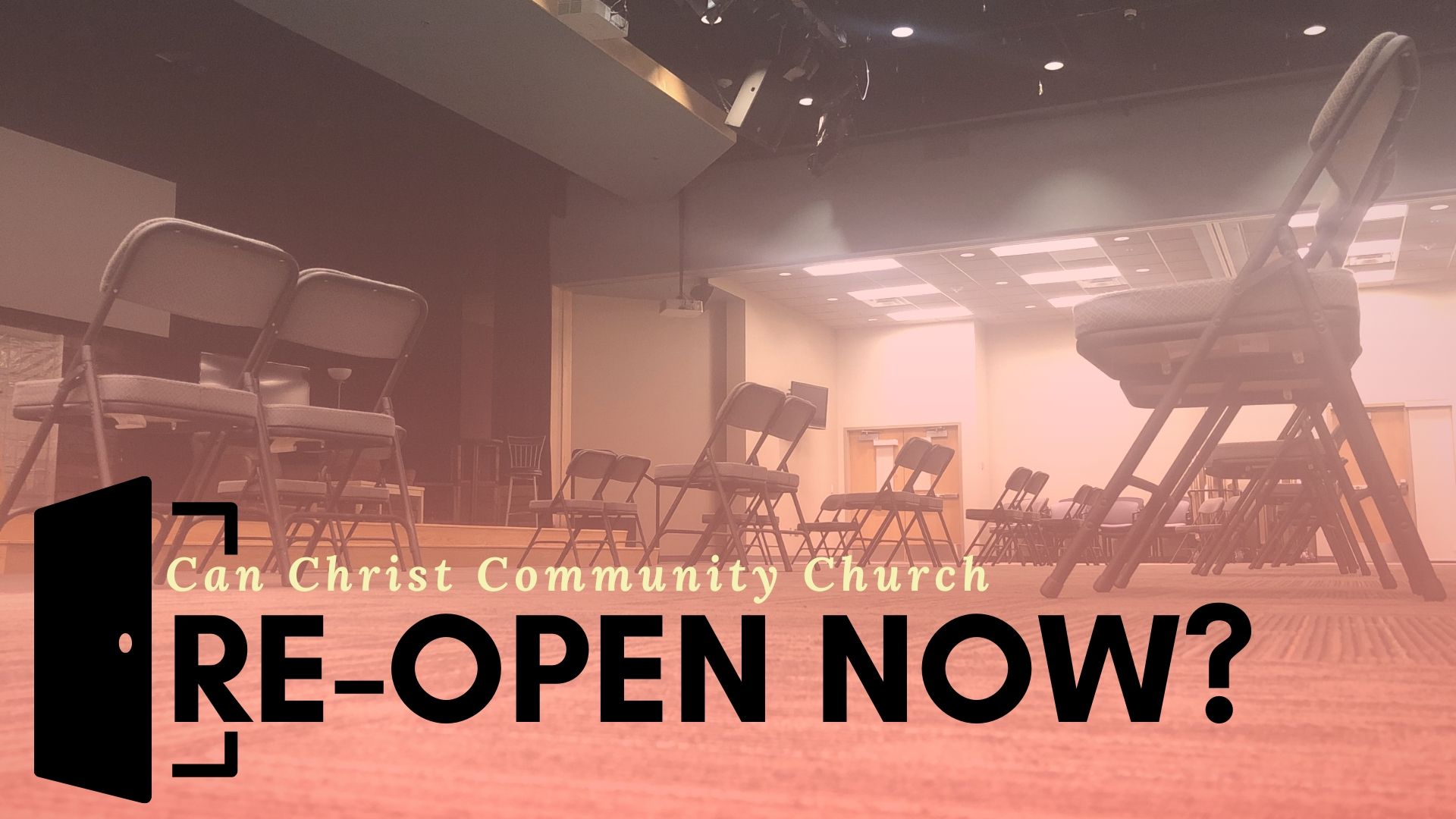 Can Christ Community Church Ames Re-open Now?
It seems that just about everyone has a word about how and when to "move toward normal" in re-opening our states, communities, restaurants, schools, sports…and yes, even a church's public worship services.
Frankly, it's all a bit bewildering, especially if one attempts to listen to ALL the so-called expert voices out there. Differing reports stimulate either hopeful confidence or sheltering fear. As one of our ministry's leaders said to me earlier this week, "With all the conflicting data and advice, you just want to tune it all out."
Those of us charged with leading our church family have been helped by a number of you who have weighed in. No surprise there is a range of opinions. With all of your helpful input, we've been attempting to make decisions that are best both for our mission as church and our safety in a virus-compromised environment.
With all of your helpful input, we've been attempting to make decisions that are best both for our mission as church and our safety in a virus-compromised environment.
SO WHERE ARE WE HEADED?
The investment of hours in prayerful discussion with other national and regional church leaders, listening well to state health officials, and soliciting the input of our ministry staff leaders—all of this and more have resulted in the following re-opening decisions.
First, we believe we can re-establish public worship services in our CCC facility—both Catalyst (G1) and Classic (G2)—on Sunday June 14. However, our regular Sunday children's and student ministry programming on site at this point continues to be on hold.
Second, using wisdom and guidelines, the on-campus services will be able to accommodate a limited number in each venue, that is in Catalyst (G1) and Classic (G2). Therefore, those desiring to come will be invited to register online for one of the scheduled services.
Third, Sunday services will be held at staggered hours, to facilitate distancing and adequate cleaning measures. At present on Sundays in June and July, we envision:
a 9:00 AM Catalyst Service (G1)
a 11:00 AM Classic Service (G2)
a 7:00 PM Catalyst Service (G1)
We will monitor the demand to see if additional services are needed in the weeks to come.
What is important as we re-gather on June 14 and beyond is not insisting on what I want, but rather what encourages others to feel safe and loved.
Fourth, we will ask those who register to come for a service to cooperate with a set of guidelines. While we recognize that convictions vary regarding mask-wearing and social-distancing, as disciples we are not those who demand our personal rights in secondary matters. Rather, in love preferring one another, we will gather in such a way that exhibits that others-oriented love. in the Lord, as a body eager to show love.
Finally, next week (by May 31) we will have in place instructions on how to register to come, along with what the guidelines for returning to gathered worship will be. We will also continue to stream the services, realizing that it will take more weeks of time before more feel comfortable and safe returning.
ALSO AHEAD – A KEY MEMBERSHIP MEETING – MAY 31
For the first time in our ministry's history, our Spring Membership Meeting will be held "online," at its usual time of Sunday afternoon (May 31), 4:30–6:00 PM.
Members have already received information regarding the strategic matters and decisions at hand. They will receive an email "invitation-link" before Sunday afternoon. When meeting time rolls around, it should be as simple as clicking the "Attend Online" button and joining the party! Seriously—this will be an important 90 minutes of worship and membership decision making. Please SAVE THIS DATE, look for the email, and click in at 4:30 PM.
A FINAL WORD
Your prayers and encouragement are so vital to me, to our staff, and to all our leaders. Thank you for your willingness to serve and bless one another in love. My personal time with the Lord has recently been in Mark's wonderful gospel. My heart arrested again at Jesus' compassion for people, and his willingness to give up what he could have considered as "his rights" to serve others.
We are His followers. We want Him to live each day through us. Let's serve and love as He did, and does.