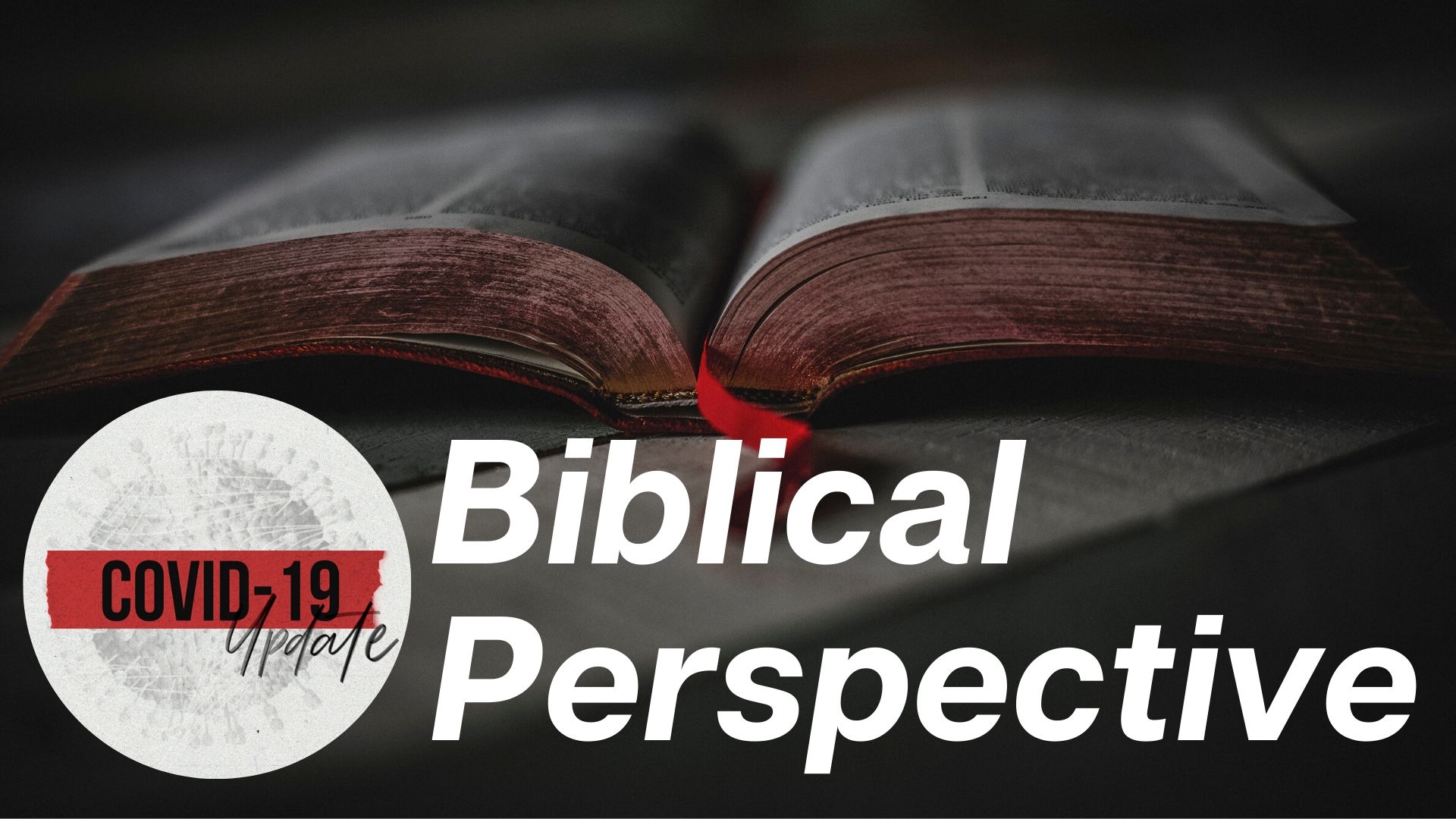 Biblical Perspective, Ministry Practices, and being the Body of Christ in Unprecedented Times
What remarkable days in which we are living! Swimming in a swirl of information, recommendations, closures, social distancing, even buying and hoarding…all driven by a mixture of wisdom and fear.
No doubt you are watching, listening to, and/or reading what you can in order to decide what your living "best practices" are over the next few weeks.
Christ Community Church's ministry and operational staff team are prayerfully thinking how to both encourage and keep you informed during the days to come. Please take a few moments with this initial communique, with my thanks.
BIBLICAL PERSPECTIVE
The current pandemic health-crisis is not, of course, the first time that large population groups on the planet have faced daunting, threatening circumstances. Quite honestly, neither is it the Church's "first rodeo."
Our situation today, like those in the past, urges us who belong to Christ to excel in hope because of our remarkable relationship to a Sovereign Heavenly Father. He is our Father, the One who has each one of our lives in His hands, and our days in His plan.
This means that fear for our lives is not our knee-jerk response nor our daily posture. Once again, Psalm 46 could not be more helpful in explaining the faith-filled Christian's set of mind.
God is our refuge and strength, a very present help in trouble.
Therefore we will not fear though the earth gives way,
though the mountains be moved into the heart of the sea,
though its waters roar and foam,
though the mountains tremble at its swelling.
Come, behold the works of the Lord,
how he has brought desolations on the earth.
He makes wars cease to the end of the earth;
he breaks the bow and shatters the spear;
he burns the chariots with fire.
"Be still, and know that I am God.
I will be exalted among the nations,
I will be exalted in the earth!"
The Lord of hosts is with us;
the God of Jacob is our fortress
We humbly affirm that there is the "bringing low" hand-of-God in what our world is experiencing. When the Lord reminds us of our fragility, it is an opportunity for us to call upon Him for both present help and eternal perspective. Let Him be exalted among the nations!!
This fallen and oft-crippled creation will someday give way to a new, eternal, and uncompromised creation which will be our everlasting home, if we are rightly related to God through trust in His promise in the gospel. We fully understand that this life is but a vapor (James 4:14). The age to come is what our hearts long for.
As His ambassadors, these are strategic days to pray, care, and share the lasting hope only found in Christ. As Jesus' disciples, let's be both wise and fearless, God's Spirit empowering us!
CHRIST COMMUNITY CHURCH MINISTRY PRACTICES
Be assured that our ministry's leadership is diligently monitoring developments which impact the rhythms of our ministry staff and our overall constituency. Daily we have our ears tuned to the recommendations of national and regional health professionals, as well as our nation's political leadership. Here are some of the measures we are putting in place.
As you know, the COVID-19 challenge is compounded by some attending realities. First, local testing for the coronavirus is not readily available, though this may change. Second, many of us central Iowans are working our way through good-ole regular flu viruses and colds, and as such feel a bit compromised already. Third, there is uncertainty when and where COVID-19 will show up in Story County. Finally, it is difficult to assess which steps are over-reactive and which are under-responsive. Bottom line—we are giving our best given the complexities we're facing
Nonetheless, given what we know, Christ Community leadership is implementing the following.
STAFF MINISTRY PRACTICES
CHRIST COMMUNITY CHURCH OFFICES:

we intend to keep our CCC staff offices open and functional with those staff who are comfortable coming "to work" and ministering from our campus.

Each staff member faces unique circumstances, which for some mean coming "to work" is very low risk while for others being on the campus presents a higher risk.
CARE:

we will be asking our staff to reach out to their particular constituencies with communication and pastoral care.

We want to be aware of the needs within the CCC body of Christ.
PLANNING:

staff will also be using time normally given to preparing for executing weekly programming for the purposes of planning well for the seasons of ministry ahead (later Spring, Summer, and Fall)
WEEKEND WORSHIP:

we will continue to provide Catalyst worship services online on Sunday mornings, both at the 9:00 AM and 10:45 AM hour.
CHRIST COMMUNITY CHURCH CONSTITUENCY PRACTICES
CONNECT GROUPS:

we encourage our Connect Group leaders to take the lead in communicating with group members about the comfort level of meeting together over the next 4–8 weeks.

Also encouraged is communication with Pastor Kyle re: the decisions and needs of your group.
ADULT FELLOWSHIPS:

If you are an Adult Fellowship leader, we would encourage a reaching out to those who are a part of your Adult Fellowship, sharing needs and concerns
OPEN GROUPS (Men's and Women's Ministry):

while planned programming and scheduled events have been put on hold, we will encourage our leaders to stay in communication with you as they deem best.
CCC FACEBOOK PAGE:

as you might expect from our CCC team members, a number are responding to needs they see, and we invite you to connect to these good initiatives (Facebook Group: Ames Community Support for COVID-19)
COMING TO THE CHRIST COMMUNITY CAMPUS – given that our administrative and support staff time and services at our facilities will be less than normal, you are welcome nonetheless to come as you have desire and/or need. Our offices will be staffed and open should you wish to stop by for help or to drop off your gifts of stewardship.
KEEPING CHRIST COMMUNITY FINANCIALLY HEALTHY – no doubt you are quite aware that even though we are not meeting on campus for worship and discipleship programming, our financial obligations continue (i.e., ministry campus expenses, staff salaries, etc.). We will be prayerful about this as well, even as we encourage you to be faithful in stewardship. Please do utilize the opportunities to give online through the CCC Church App, Church website, through your own bank's Bill Pay option, or sending a check to the CCC offices.
FUTURE UPDATES AND DECISIONS – we will be thinking ahead as events unfold and both national and regional recommendations are communicated. We do not have a clear sense yet about extending the "no-meeting" policy beyond April 4, but we will make decisions in a timely fashion and communicate them clearly.
BEING THE CCC BODY OF CHRIST
As mentioned above, these are days of great opportunity for selfless, Jesus-living-in-us disciples. We can shine in generosity toward our neighbors, colleagues, friends, and acquaintances. We can be responsive to the needs around us, praying and caring as the Spirit orders the interactions of our days.
Please feel free to communicate the needs you see with our Office, needs you sense our church family could respond to and meet.
Join me, will you, on our knees that we might be Jesus' loving hands and feet in a world that is sensing its vulnerability. To God be the glory!
David Staff
CCC Lead Pastor