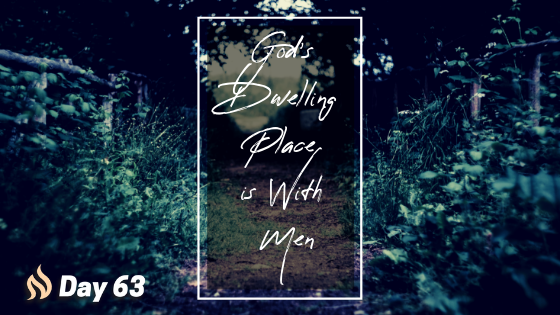 EHP Day 63-God's Dwelling Place Is With Men
Revelation 21:3-4
And I heard a loud voice from the throne saying, "Behold, the dwelling place of God is with man. He will dwell with them, and they will be his people, and God himself will be with them as their God. He will wipe away every tear from their eyes, and death shall be no more, neither shall there be mourning, nor crying, nor pain anymore, for the former things have passed away."
In 1880, Dwight Laymen Moody published a small volume entitled Heaven. Five years and almost 90,000 copies later, the original printing plates having worn thin, it was republished via newer technology ("electrotype plates") in Chicago. Six Chapters—Its Hope, Its Inhabitants, Its Happiness, Its Certainty, Its Riches, Its Rewards.
Moody writes,
If there is one word above another that will swing open the eternal gates, it is the name of Jesus. There are a great many passwords and by-words down here, but that will be the countersign up above. Jesus Christ is the "Open Sesame" to heaven. Any one who tries to climb up some other way, is a thief and a robber. But when we get in, what a joy above every other joy we can think of, will it be to see Jesus Himself all the time, and to be with Him continually. Isaiah has given this promise of God to every one who is saved through faith: "Thine eyes shall see the King in His beauty; they shall behold the land that is very far off."
Since the creation of the Garden and the first human family, God has longed to dwell with His people. His love driving Him to continually share the infinite joys of His indescribably beautiful fellowship. This dwelling-with-us will be the key feature of eternity, which can (and should!) begin today, and every day, until we feel his hand wiping the final tears from our eyes, now beholding Him in all His glory.