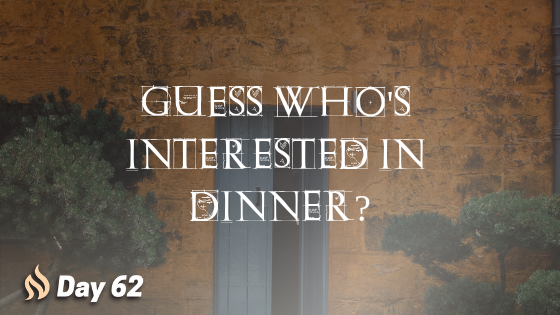 EHP Day 62-Guess Who's Interested In Dinner?
Revelation 3:19-20
Those whom I love, I reprove and discipline, so be zealous and repent. Behold, I stand at the door and knock. If anyone hears my voice and opens the door, I will come in to him and eat with him, and he with me.
The 2nd and 3rd chapters of the Revelation of Jesus Christ contain specific messages for 7 early churches in Asia Minor (today, Turkey). Each church in the world is a lampstand for the Lord Jesus. He cares about the condition of each, and for the believers of His Body. He cares enough to speak to them directly.
The 7th letter (Rev. 3:14-22) went to the church in Laodicea, a wealthy city in a fertile valley. Flush with an abundance of cash, luxurious clothing, the best health care. John Stott (What Christ Thinks of the Church, 1958) writes,
"The pride of Laodicea was infectious. Christians caught the plague… [believers] became smug and self-satisfied, and Jesus Christ needed to bluntly expose them…I need nothing, they said…they thought they were doing fine, but Christ described them as blind and naked beggars."
Their spiritual complacency, a pervasive "half-heartedness," aroused the Lord Jesus' most pungent message, most penetrating diagnosis, most surprising reaction. These Christians were utterly distasteful to Him: "I will spit you out of my mouth!" he warns, if there is no repentance, no renewed fervency.
Yet grace appeals. "Listen, I stand at the door and knock," Jesus pleads. "If any one opens the door, we can begin again to dine." [Stott]…
"Our heart or soul is likened to a dwelling…the living Christ comes to visit. He now stands on our front doorstep and knocks. He wants to be admitted. It is a visit from the Lover of our soul. If we do open the door of our heart to Jesus Christ and let Him in, He will bring an end to our beggary. He will dine with us; we shall be permitted to dine with Him. The joy of the Christian life."