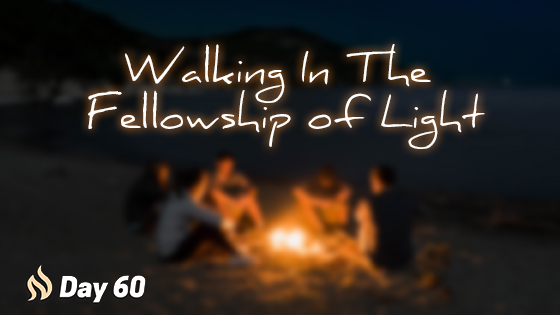 EHP Day 60-Walking In the Fellowship of Light
1 John 1:5-7
This is the message we have heard from him and proclaim to you, that God is light, and in him is no darkness at all. If we say we have fellowship with him while we walk in darkness, we lie and do not practice the truth. But if we walk in the light, as he is in the light, we have fellowship with one another, and the blood of Jesus his Son cleanses us from all sin.
Yes. You're right. We don't say it like that: "fellowship." We say, "Let's hang out." We tailgate, go to dinner, ball games, parties, concerts. We sit in coffee shops that look musty but feel cool. Around the fire pit. At the campsite. A weekend at the lake home, playing games, eating anything other than health food. No pressure. Small agendas. Whatever happens is refreshing.
Ninety-nine times out of hundred, we're with others for good times, for relational deepening. We share, learn to trust, keep secrets, offer encouragement, help each other when stuck. The Bible calls it fellowship. The Greek term, "koinonia," means all of these things: sharing, partaking, partnering, participating, associating. Deepening in relational life together with partners you trust. We come to both enjoy and count on someone's presence in our life.
Here's God's incredible offer. We can hang with Him, and He loves to hang with us. The opening verses of John's first letter to believers exclaims "we've seen and experienced God's Life—Jesus Christ the Son—which means we have koinonia with the Father and with His Son and with one another."
And yet there is a requirement. God doesn't do darkness. He loves people who are sinful. He does everything He can to reach and redeem them. But once redeemed, if you're going to hang with God, you can't "walk in darkness." Rather, we hang with God when we readily admit, confess, and shed our sin. God is light, and he shines with righteousness. And those who hang with Him do the same.