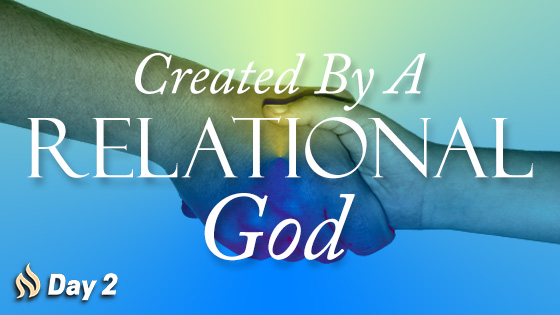 EHP Day 2-Created By A Relational God
Genesis 1:26-27
Then God said, "Let us make man in our image, after our likeness. And let them have dominion over the fish of the sea and over the birds of the heavens and over the livestock and over all the earth and over every creeping thing that creeps on the earth." So God created man in his own image, in the image of God he created him; male and female he created them. (for fuller context, read Genesis 1:26-2:25)
Did you notice it? The word "our" comes out of nowhere. With whom is God talking? Shouldn't it read, "I'll make man in my image." And, when you think about it, God must be talking to…well, God. God alone has a "likeness" that is like nothing else, a likeness that has not been imprinted on any other portion of what He's just created (cf. Gen. 1:1-25).
Still, is God talking to Himself? He addresses another Person, or Persons. "Let's make man in OUR image." Our understanding of this conversation requires the larger revelation of Scripture. In the Bible's sacred pages, God reveals himself to be a Triune Being. There is One God who exists in 3 Persons: God the Father, God the Son, and God the Holy Spirit (cf. Is. 61:1, Matt. 28:19-20, 1 Cor. 12:4-7).
Fred Sanders helpfully writes:
God is God in this way: God's way of being God is to be Father, Son, and Holy Spirit simultaneously from all eternity, perfectly complete in a triune fellowship of love (The Deep Things of God: How the Trinity Changes Everything).
Created in His image, we human beings think, feel, and choose to pursue loving relationships because God Himself is a Being of Three Persons who think, feel, choose to love and relate with one another… and the desire to do so He has also imprinted in us.
So there is a God who has created you and wants a love-relationship with you!